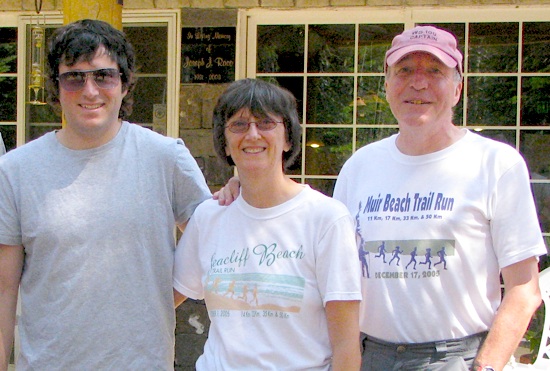 Our son Jamie came to visit us for his summer vacation. We had a very nice time.
Jamie always seems to bring the good weather to California. When he last came, in February 2 years ago, he brought the only nice week of weather between January and May. This time, he brought the hottest day for several years. On June 20, the day after he arrived, the temperature was 102F/39C. Phew! That's hot.
On his first weekend, we went to Striders on Saturday and had a walk in Santa Cruz on Sunday. The weekdays were rather uneventful. We were preparing for the Western States Endurance Race on his second weekend. I'm station captain at Last Chance this year - the aid station run by Stevens Creek Striders.
After months of preparation, hundreds of emails, finding volunteers, organizing equipment & transport, the race was cancelled for the first time in its 35 year history. Bummmmm. The reason - forest fires. It was decided that the smokey conditions in the Sierras were a health risk to the runners. Additionally, there were fire crews working off Mosquito Ridge Road and this may have prevented access to the aid stations at Duncan Canyon, Dusty Corner and Last Chance (not to mention us hampering the fire fighter's operations).
So, we called Claudia at the Christmas Tree B&B Lodge near Foresthill. We had a very nice weekend walking on the Western States Trail. The air was very smokey when we arrived at lunchtime on Friday - however by the time we left on Sunday afternoon, it was fairly clear. We walked to Last Chance and climbed the infamous "Devil's Thumb" - the steepest climb of the race. It was very nice to let Jamie see both Claudia's B&B Lodge and the Western States Trail. Both are 'must visit' places.