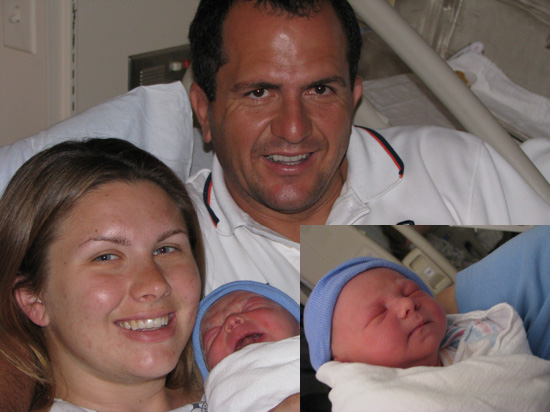 Great Excitement. My running buddy Michelle had her first baby today. Jonas weighed in at a very impressive 8lb 10oz. Everybody's fine. The baby was born at 1am. When Ali and I arrived to visit about 3pm, we found the whole family sleeping in the hospital room. Gustavo was snoozing and cuddling the baby. Michelle was having a rest. Jonas was sleeping.
Birthday Photos: click here.
Anyway, everybody's fine. The baby looks lovely and pink and healthy. And Michelle looked radiant. Gustavo was purring. Jonas hardly opened his eyes. The family will probably be home tomorrow or Sunday and Michelle's Mom, brother and sister are coming at the end of the month to share the moment. Photos: click here.
Congratulations to Michelle and Gustavo. Best Wishes for your future family life.