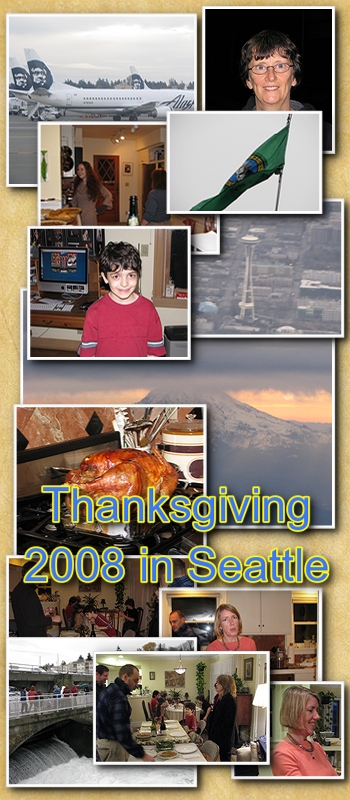 We had a really wonderful time at Thanksgiving by going to visit Denise and Richard and the family in Seattle. A very early start on Thursday morning to catch the lightrail at 4:50am to be on time for our flight at 6:30am. It was a nice day and we had great views on the way north of Crater Lake and the HUGE Volcanos in Washington - Mt Hood, Mt St Helens and Mt Rainier. It was clear and bright when we flew over Seattle. Rich and Lisa met us at SeaTac with the words "Where's your kilt?". I didn't wear it this year!
Anyway, after a little sleep in the early afternoon, we were joined by Richard's sister and family and another 'old' AGFA buddy - Cathy. Dinner of course was Turkey with all the extras. Apple Pie (and other pies) for afters. Quite a feast. Thanks to Denise and everybody else for working to cook such a splendid dinner.
On Friday we had a walk down by the Lake Washington Ship Canal. Very interesting. The fish ladder, the locks, the bascule railway bridge, and the gardens.
It was a particular pleasure to meet Richard's sister Susan and family. They are amazingly talented musicians. Hopefully we'll get to hear them perform some time soon - perhaps next summer. http://www.lindsay-jazz.com/.
We went to the contra dancing on Friday evening - American Country Dancing based on English Country Dance. Very enjoyable. We were given a very warm and friendly welcome by the regulars at the local community center. I was surprised to see more than 100 folks turn out to dance with a live band of great musicians.
On Saturday we went to visit Mt St Helens - which erupted explosively in May 1980. Although we had checked the weather forecast, we were a little disappointed to find the mountain covered in fog (low cloud). We had a little walk, and although we were unable to see the crater, we did see loads of evidence of the destruction caused by the explosion, pyroclastic flow and mud avalanche which overwhelmed the Toutle River Valley. Nature is recovering from the episode of course, however its obvious that the destruction was immense. Dinner at George's rounded off a very nice day.
Sunday was pretty quiet. We went to see "Milk" the movie about Harvey Milk - the first openly Gay person to be elected to public office in the United States. This is a "must see" movie and I expect Sean Penn will win the Oscar for Best Actor in a Leading Roll for his performance in the title role. No trip to Seattle is complete without Dinner at Firenze's in Bellevue. The chicken gorgonzola is one of my all time favorite dishes.
Monday morning, Richard got out of bed at 5:20 to take us to SeaTac for a 6:50 flight to San Jose. Very unusually, we couldn't land at SJC because of fog and after circling for an hour, we were diverted to Reno, NV to refuel. We arrived at SJC at 12:45 - 4 hours late. Then I had to hurry off to work and of course worked late every night for a week to make up the time.
Thanks very much to everybody in the Dermer family for your hospitality and company. Great as always to see you. It's good to see the Miss Dermers making their way in the world - that's how it should be. However I know that Denise and Richard miss the girls and were delighted to have them both for Dinner on Thursday. So to all the Dermers, I lift my glass and say "Here's to Thanksgiving. Happy Holidays and Best Wishes for 2009".