We had a very enjoyable visit to my family in Houston, Texas. My brother in law is the Chieftain of the Houston Heather and Thistle Society. The highlight of the Society's program is their annual Burns Supper to celebrate the life of Robert Burns - the National Poet of Scotland.
There were 500 guests at the Burns Supper. Throw in 2 pipe bands, a ceilidh band, highland dancers, singers, speeches, toasts, awards, great company, good food and wonderful wine - and you get a great evening.
The photo below are the Graduates of Glasgow University who attended the dinner: Chieftain Robert, Helen, Calum and Robin. Seated is Gordy making his first public appearance after a serious motor accident last fall. Get well soon, Gordy.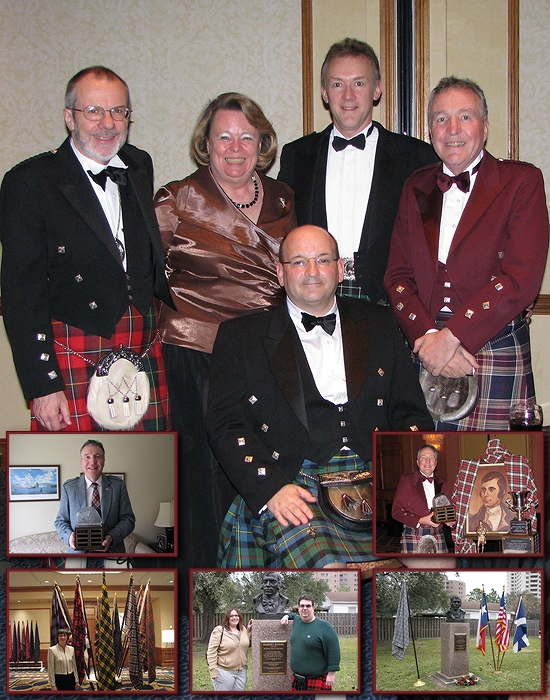 I was very pleased and honoured to be given an award by the Society. This was an expression of thanks for my work as the Society's Webmaster during the last couple of years. Of course I undertook this work with no thought of either compensation or reward. However I appreciate the thoughtfulness they have shown. Thanks very much. Website: click here.
I was also very pleased that the Society gave an Award to my sister for her hard work last year. The Society were hosts to the Annual Conference of Robert Burns Association of North America. The Conference was held on a ship during a cruise in the Gulf of Mexico. Irene and Robert undertook the burden of organizing the program for around 100 delegates and it was very nice that the Society should recognize and say thanks for her service.
On Sunday afternoon there was a gathering of members of the Society at the Bust of Robert Burns in Hermann Park, Houston. Half a dozen members of the society presented short recitations of poetry and anecdotal observations of the works of Scotland's favourite son. Very nice indeed. A good turnout of other members made the occasion complete.