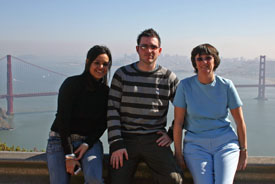 We enjoyed a visit by our son Jamie and his girlfriend, Adele. They came from England for a week. This was Adele's first visit to the United States and we think she found it to be a terrific experience. They were blessed with record high temperatures - the weather felt like summer.
They did all the usual places - Monterey, the Santa Cruz Mountains, Golden Gate and San Francisco. Thanks for coming guys, and we look forward to your next visit.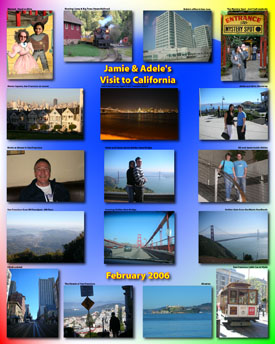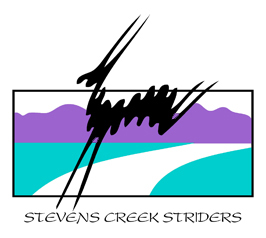 New Logo

My running club Stevens Creek Striders has a very nice logo which was designed a few years ago by a friend of the club. To order new shirts for members, I offered to recreate the artwork in Adobe Illustrator. Of course, we'll be able to use the graphics for leaflets, business cards and other purposes. I only had a low resolution gif and used PhotoShop to get to the graphical elements in the logo. Illustrator's "Live Trace" converted those to beautifully smooth curves. The font is "Present Light Standard" which is available from the Adobe Type Library. We've had quite a debate about the colours of the logo and one day we'll agree on what those should be. In the meanwhile, I hope you like the logo.

Old Logo

We're also going to enjoy a visit in April from Brian and Eileen (our neighbours in England). We're going to Dakota on vacation in the summer and we've also planned a trip to Europe in September to Natalie and Neil's wedding (Brian and Eileen's son). At the end of the year we're hoping to join the Boyd family in Mexico to celebrate the 60th birthday of my brother in law Robert.

On the running front, we're going to Boston in April to run in The Marathon. I'm also the captain of the Striders Team for The Relay. And I'm signed up to run The Miwok 100km in May. Gosh that's a long way. We're also planning an expedition to climb Mt Whitney in August. So lots of training and running ahead.

Work is looking fine at the moment and there are a lot of projects on the go. I'm attempting to persuade Ali that we should replace her 7 year old Windows PC with a nice new iMac with the super fast Intel processors.