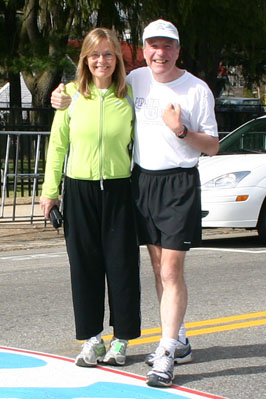 Penny and Robin on start line at Boston.

Ali and I went to Boston for the Marathon and had the pleasure to stay with the Davis family. Penny and I ran in the event and it was really great. 26 miles of cheering spectators - the biggest event I've ever seen. Quite amazing.

Penny equaled her PR and qualifying time of 3hr 37minutes. Penny and I ran together for the first 10 miles, however after that I started to tire and finished 3hr 59min. Both of us were very pleased with our times.

Thank you Peter, Donna and Matthew for your company and hospitality over the weekend.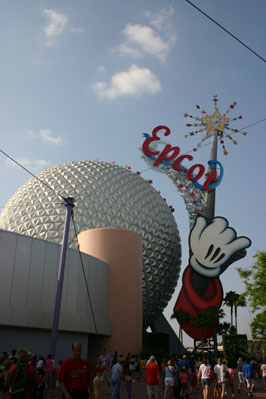 Disney Epcot, Florida.

After Boston, Ali and I flew down to Florida and drove north through the States of Georgia, South Carolina and North Carolina.

We were able to visit Disney Epcot in Florida - one of the biggest and most famous theme parks in the States. Then we drove via Jacksonville, FL, St Mary, GA to Savannah, GA. Savannah is a very nice old town - a visit is recommended. We also visited Charleston, SC and Fort Sumter - the first battle of the Civil War.

We went to visit Mark and Cindy in Raleigh, North Carolina. We managed to have breakfast with our old friend Jill who moved to NC last year. Thanks Mark and Cindy for your hospitality.
We're also going to enjoy a visit in April from Brian and Eileen (our neighbours in England). We're going to Dakota on vacation in the summer and we've also planned a trip to Europe in September to Natalie and Neil's wedding (Brian and Eileen's son). At the end of the year we're hoping to join the Boyd family in Mexico to celebrate the 60th birthday of my brother in law Robert.

On the running front, we're going to Boston in April to run in The Marathon. I'm also the captain of the Striders Team for The Relay. And I'm signed up to run The Miwok 100km in May. Gosh that's a long way. We're also planning an expedition to climb Mt Whitney in August. So lots of training and running ahead.

Work is looking fine at the moment and there are a lot of projects on the go. I'm attempting to persuade Ali that we should replace her 7 year old Windows PC with a nice new iMac with the super fast Intel processors.