We are thrilled and delighted to announce the birth of a new member of the Mills family. Holly Jessica Mills was born on Monday August 21, 2006 in Camberley, Surrey, England.
Holly's Baptism took place in St Michael's Church, Camberley on Sunday December 10, 2006. The Rev Bruce Nicole officiated with the charm and dignity with which he conducted the Wedding Service in August 2005. There was a very nice gathering of folks from all sides of the family. And I hear that Holly behaved very well throughout the service.
Baptism Photos: click here
Collage: click here
Holly: click here and click here

Alan, Holly and Jen in Church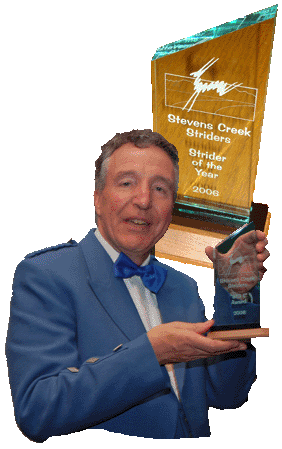 And while Ali's been in England at the Baptism, Robin was given the "Strider of the Year" Award by Stevens Creek Striders.
Thank you Striders for this honor.
Well it's the end of another year. It'll be Christmas next week. We're going to the Grand Canyon for Christmas, and Houston, Texas for New Year. Our brother-in-law Robert is enjoying his 60th Birthday this week and there'll be a gathering of the family to celebrate this at New Year in Houston.
Visiting Arizona and New Mexico will bring our state count to 39. We've had the pleasure to visit 12 new States this year and we're hoping to have visited all 50 some time in 2008.
I'm not too sure what next year will bring - however we're hoping for some changes in the office, lots of running, some laughs and a visit to England to get to know Holly.