The future is looking fine. Adobe are going to allow me to work part-time from April 1. 2007. So I'll only be working 3 days a week. I'm looking forward to being less stressed by work, and to long runs on Thursday and Friday morning when I'm not in the office. And on those afternoons, I'm hoping to do some volunteer work. Perhaps at a museum, theatre or medical non-profit around San Jose.
We've planned a vacation in England in July to visit the family. As well as visiting the folks in Surrey, we're going to have a week in Cornwall with Alan, Jen and Holly. And we'll be joined by Jen's folks Colin and Sue. The visit to England will be followed by two weeks travelling in the mid west of the USA to visit 7 more states in that region.
I'm going to run in the Big Sur Marathon in April - thought by many to be the most beautiful marathon in the world. And in October, I'd like to run in Kansas City, MO. On that trip, we're also going to complete our 5 year project to visit all 50 states of the United States of America. Not many folks have visited them all.
And next year is sabbatical year at Adobe - I'll have been with the company for 10 years. So I have an extra three weeks vacation. A trip to China and India is one idea, however long overdue return visits to Australia, Finland and Scotland must also be considered. And there's the family in England of course. Well, we'll see.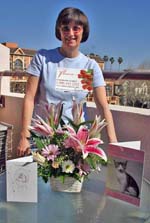 Ali with the cards and flowers send by the family on Monther's Day (March 18)

Photos: click here